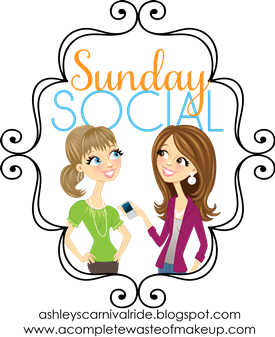 This week's Sunday Social is what we love about Fall, and since October is my second-favorite month of the year (after December), I am eager to participate!
Fall Favorites:
Cooler Weather Accessories
The extreme cool front in Dallas this weekend had me pulling out my jeans, boots, long-sleeve shirts, scarfs, coats, etc. I can't even describe my level of excitement yesterday when I looked through the "fall/winter" section of my closet and realized the new outfit options I'll have as the temperatures finally stay cool. As much as I enjoy summer, I was burned out on 100+ degree days and my summer wardrobe!
State Fair of Texas
In my opinion, if you grew up in Dallas/Fort Worth or have lived here for a significant amount of time, you HAVE to go to the State Fair at least once. I went with my parents every year when I was a kid and loved the rides and fun houses. And, I actually went to the Fair with my friend today! It's definitely crowded, but there's something for everyone-- auto show, petting zoo, livestock, shopping, rides, and of course, tons of food. I had to get a classic Fletcher's corny dog, and the chocolate dipped turtle cheesecake was to die for!
College football
Even though my TCU Horned Frogs lost yesterday, and therefore gave up the longest winning streak in the nation, I still love them. The spirit of college football is so fun.
Scary movies
I enjoy scary movies, and what better time to watch them than October?! I've seen quite a few of them, and of course, it wouldn't be Halloween if I didn't watch the classic Hocus Pocus.
Starbucks Pumpkin Spice Latte
As soon as Labor Day passed, I felt it was acceptable to begin consuming this delicious fall beverage. I'm also a big fan of their salted caramel mocha frappucino. Yum!