Today, I am thankful:
-- for colder weather that makes it finally feel like December.
-- that two of my dear friends got engaged this week. Love is in the air, and I'm excited to celebrate with them!
-- to have a roommate who brings me soup and Sprite in bed while I'm sick. Seriously, best soup ever.
-- to have had the opportunity to catch up on some reading while in bed today. Sometimes we just have to slow down and recover.
-- that, God willing, I will be back to good health in a day or two. It's easy to take our bodies for granted, but without your health, you don't have anything. I am fortunate to only have a little cold or virus!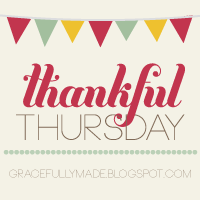 < /textarea>